Finding Peace Amid the Chaos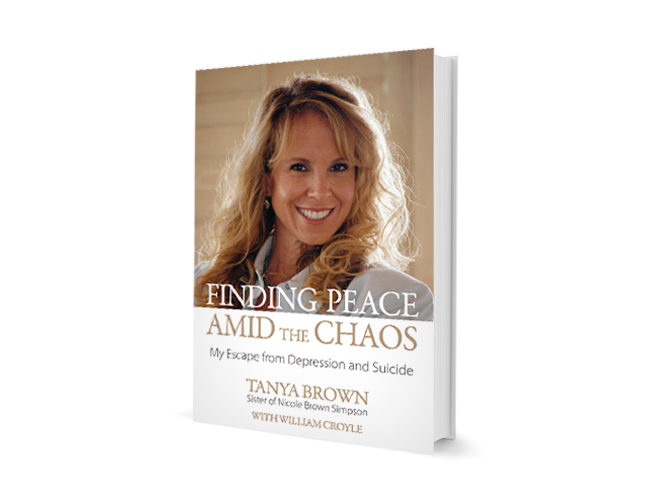 Depression is a real disease – disabling and life-threatening – and a reported 350 million people suffer from it worldwide. You might read abook about depression or you can read about a way to manage depression from taking over your life. InFinding Peace Amid the Chaos: My Escape from Depression and Suicide byCelebrity AuthorTanya Brown will be a comfort to those suffering from this debilitating disease and it will inspire those to take charge and step out from it.
Tanya Brown's Book About Depression
Targets Millions
Tanya Bounces Back with the Best Book on Depression
 When Tanya's speaking engagements and Life Coaching began to take off, a friend and colleague prompted her to write a book on depression that moved past the adversity and focused on overcoming the challenges. Finding Peace Amid Chaos details Tanya's tremendous loss in her teenage years and how she later lost her sister, Nicole Brown Simpson, to domestic violence and murder. Like many of us who experience grief after someone close to us has died, she tried to avoid the pain. But at some point, the chaos of her emotions became too overwhelming to carry alone. She worked hard on learning self-care through the help of therapists while in the hospital; she learned techniques and ways to manage her emotional well-being. And she found her way back. Now she's written what many refer to as one of the best books on depression.
Tanya's Book Details Depression and Victory Over it
 Finding Peace Amid the Chaos chronicles Tanya's journey from being a confused and troubled student and daughter in a hard-working, dynamic family to the sudden cancellation of her wedding in 2004. After a mental breakdown, Tanya got the help she needed through three months of hard work in a psychiatric unit. The book details depression and how she coped with it. Now she takes her story and the lessons she learned from it to people who can use the same kind of help. She's a testament to the resilience of the human spirit.
Why read one of the Best Books on Depression?
 If you or a loved one are depressed, you likely feel fatigue and a loss of energy almost all day long. You have feelings of worthlessness or guilt almost every day. You can't concentrate. You may experience insomnia or have no interest in pleasurable activity. Some who suffer from depression have suicidal thoughts or even attempt to kill themselves. This makes depression a fatal disease.
Tanya has been there. And she can relate to that pain. When you are feeling so low you can't begin to think about the next moment, it's incredibly powerful to have someone who has experienced the same feelings be the one to help you to your feet. Tanya's book provides that kind of lifeline. Plus, with insight about the disease of depression from a graduate in Psychological Counseling, those who suffer from depression can feel confident that the information and tools they're getting from Tanya Brown's book is current and credible.Finding Peace Amid the Chaos is one of the best books on depression you'll find.
Tanya's Many Offerings
Finding Peace Amid the Chaos is a good way to start your healing journey with Tanya, and it's also a good supplement to the other work she does. She offers a life coaching program that helps those who have suffered from any adversity, including; grief, depression, substance abuse, and domestic violence. She is an exceptional motivational speaker, too, bringing her message of victory over depression to audiences nationwide.